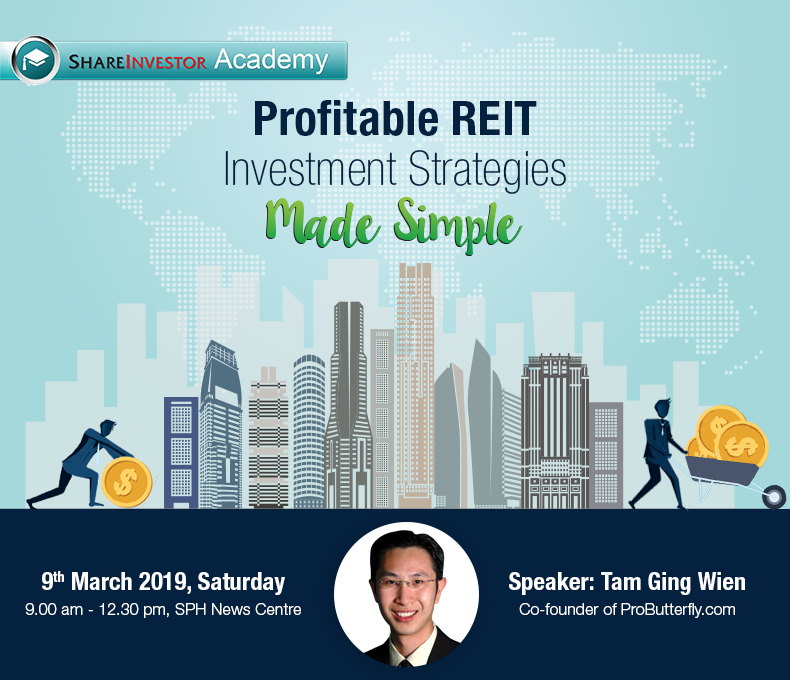 In the last Straits Times Index (STI) quarterly review in December 2018, 5 out of 5 of the stocks on the STI reserve list were identified as REITs. The STI reserve list comprised of the five highest ranking non-constituents of the STI by market capitalisation:
| | |
| --- | --- |
| | Suntec REIT |
| | Mapletree Commercial Trust |
| | Keppel REIT |
| | Mapletree Logistics Trust |
| | Mapletree Industrial Trust |
With only 40 REITs listed in Singapore, this shows that REITs are gaining significance and traction amongst investors. REITs are popular tool for investors seeking stable dividends and building their passive income.

Lured by the high yields, many retail investors mistakenly thought that REIT is simple – relying on a combination of High Yield, Low Price-to-Book Ratio and Low Gearing to pick their REITs.

However, many found themselves faced with a slow and painful declines in REIT prices over the years. Some also felt betrayed by the REITs they supported – rights issues after rights issues on their portfolio were called – forcing them to fork out additional cash or face dilution. Any of these may rob an investor of their dividend income.

During this seminar, Tam Ging Wien will uncover the common mistakes REIT investors make; while unpacking the strategies that will help REIT investors stay profitable.
In this seminar, he will be examining the following topics:
Foundational understanding of REITs

How to perform financial evaluation on a REIT

Dispelling common myths surrounding REIT investment strategies such as:

High yielding REITs make good investments
REITs trading below their NAV are undervalued
REITs that acquiring new assets will increase shareholder value
Rising interest rates will impact REITs

The right way to select high quality REITs

How to value and buy undervalued REITs

Common REIT investment traps and how to avoid them
During the sharing session, various case studies and list Singapore REIT examples will be used.

There will also be a Q&A and mingling session so that members of the community may engage in open dialog and discussions in order to deepen their understanding of REITs.

Ging Wien will offer sufficient breadth and depth to benefit both novice and seasoned investors alike.
Limited seats only
Seminar Details

Date:
9th March 2019, Saturday
Time:
9.00am - 12.30pm
(Registration from 8.30am)
Venue:
SPH News Centre, Training Room T8.2/3
1000 Toa Payoh North, Singapore 318994
SI Regular:
$15
Public Regular:
$18
About the Speaker
Tam Ging Wien has been an avid equities and real estate investor for over 10 years.
He is the founder of ProButterfly.com, an independent investment site that focuses on general investment themes with focus on equities and REITs. His passion for financial education and training stems from a desire to help others help themselves achieve financial freedom. In 2017 he published his first book entitled REITs to Riches: Everything You Need to Know About Investing Profitably in REITs.

For more enquiries, please contact Tel: (65) 6517 8777 or Email:
DISCLAIMER
The information provided is not to be considered as a recommendation to buy certain stocks or currencies and is provided solely as an educational and information resource to help traders make their own decisions. Past performance is no guarantee of future success. It is important to note that no system or methodology has ever been developed that can guarantee profits or ensure freedom from losses. No representation or implication is being made that using the attached material will guarantee profits or ensures freedom from losses. ShareInvestor shall not be liable to the participant for any damages, claims, expenses or losses of any kind (whether direct or indirect) suffered by the participant arising from or in connection with the information obtained from the course or instructor.