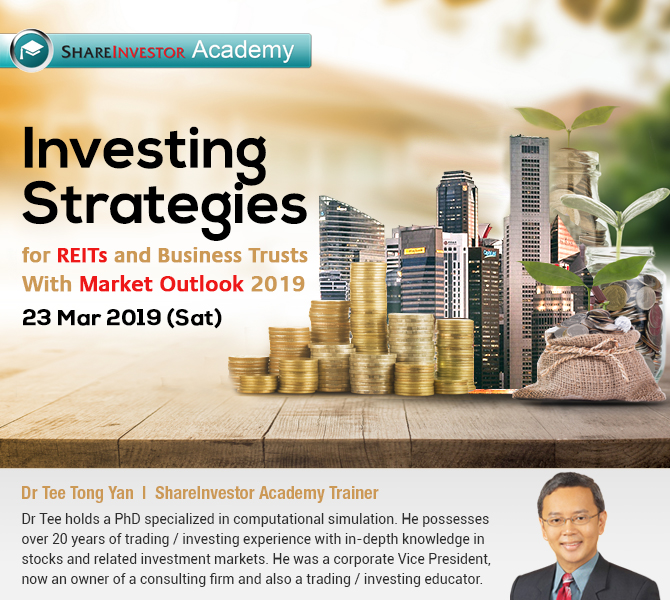 REITs and business trusts are considered as safe investment for dividends and capital gains, provided an investor knows what are the good stocks to buy, when to buy/sell or how to hold for long term. The safest time to buy a REIT is when everyone is afraid the sky will fall down while the business is still operating normally with consistent performance.

In this investment course, Dr Tee will teach the powerful methods step by step, how to select strong REITs and global blue chip stocks, then wait patiently for different levels of crisis to buy at low price, holding for dividend income, then finally selling at high price for capital gains. The Optimism Strategies will be shared to buy low sell high and integrate all investment markets with global Market Outlook 2019 of stocks, properties, commodities, forex and bonds. It is ideal for stock traders who want to safely buy low sell high in short term and also stock investors who aim for high-yield passive income and capital growth in long term.


Learning Points:
How to generate

consistent Passive Income and high Capital Gains

with REITs and blue chip stocks.

Time for golden opportunity

to buy REITs and blue chip stocks during global financial crisis, then sell high in bullish stock market.

What

to buy (stock screening),

When

to buy/sell (buy low sell how),

How much

to buy/sell (risk management) for REITs and global blue chip stocks.
Fundamental Analysis (

FA

) + Technical Analysis (

TA

) + Personal Analysis (

PA

), integrated with unique

Optimism Strategies

How to

Take Actions

(Buy, Hold, Sell, Wait, Short), matching with own

personality.

Global

Market Outlook 2019

(stocks, properties, commodities, forex, e.t.c) with emerging investment opportunities.
Seminar Details

Date:
23rd March 2019, Saturday
Time:
1.30pm - 5.30pm

(Registration from 1pm)

Venue:
SPH News Centre, Training Room T8.2/3
1000 Toa Payoh North, Singapore 318994
SI Member Regular:
$15
Public Regular:
$18
5 Bonuses
for Attendees!
• Free Hardcopy Course Notes (worth $100)
• Free Refreshment provided
• Free Investment eBooks x2 by Dr Tee
• Free Stock Diagnosis for Early Birds (1:30pm – 2pm)
• Free Global Stock Screener following Dr Tee strategies
For more enquiries, please contact Tel: (65) 6517 8777 or Email: