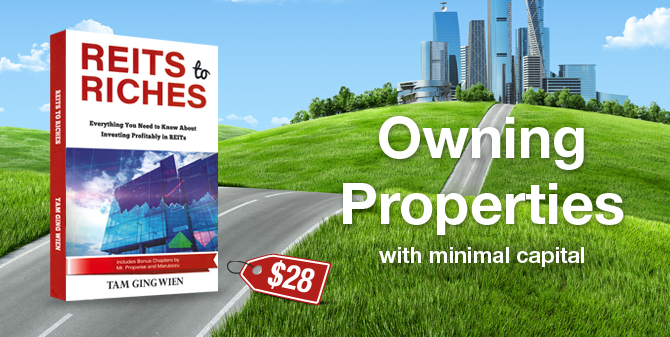 Real Estate Investment Trusts (REITs) are one of the most reliable forms of investment as it generates steady and consistent income. With REITs, we are able to invest in a wide range of real estate assets with a low investment capital. However, it is important for us to have a complete knowledge of REITs before we start off our investment journey in REITs.

REITs to Riches analyses the different real estate sectors and shares with you the method to analyse the financials of REITs. The steps of accessing the investment risks are discussed as well. With these essential knowledge, you will be able to build a portfolio of REITs and Business Trusts, which allows you to enjoy the consistent passive income from the REITs distribution.
Book Content:
• The differences between REITs and
Business Trusts
• Financing and growing a Trust
• Different real estate sectors and their
characteristics
• The methods to analyse the financials
of Trusts
• Calculating the value of Trusts
• How to access the risks and REITs
management before investing


• Build a balance Portfolio of REITs and
Business Trusts
• Avoiding the common traps which
investors fall into
• How to screen for REITs and Trusts
• Singapore REITs indices and REIT
bubble charts
• Which is a better investment, REITs or
physical properties?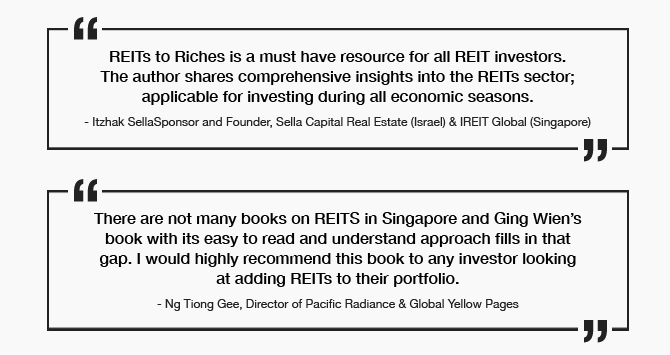 For Self-Collection:
Venue:
ShareInvestor Office
151 Lorong Chuan #02-02 New Tech Park, Lobby B
Singapore 556741

Collection Hours:
Mondays - Fridays

(excluding eve of public holidays & public holidays)


9.30am - 12.00pm l 2.00pm - 5.30pm

TERMS AND CONDITIONS:
(1) For self-collection, the books can be collected 3 working days after the payment date.
(2) For registered mail purchase, the buyer must ensure their mailing address is correct. ShareInvestor will not
be liable for any book that is mailed to the wrong address or the loss of any books in the mail.
(3) By purchasing the book, the buyer agrees to the Terms & Conditions stated.