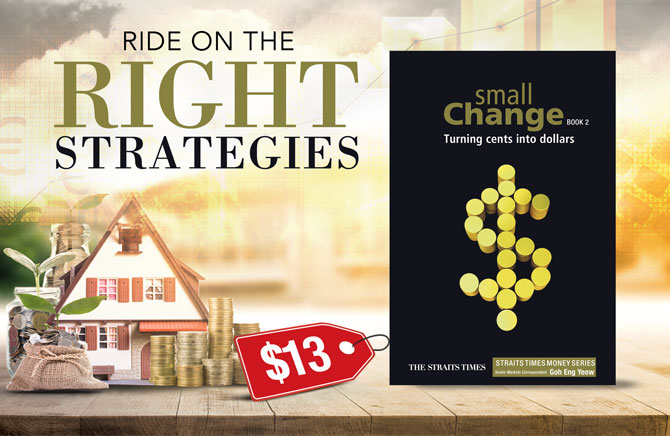 Using the right investment strategies is the key to stay profitable in the stock market. Important strategies of stock picking and timing the market entries and exits are the essentials of stock investment. Investment losses may result if we fail to apply the right strategies.

In Small Change 2, Goh Eng Yeow shares with us the criteria of picking dividend stocks. He also explains the effect of share buybacks on shareholders' interest and how we should watch the insiders' trades to catch the "buy" signal. He talks about the myths of "buy in January" and "sell in May". Actual listed companies in the Singapore Exchange (SGX) are used to explain the concepts mentioned in the book.
Book Content:
• Lessons from the financial crisis
• What to do when you have doubts
about the markets
• Stick with the best companies
• The attractions of dividend stocks
• Share buybacks – how it affects
shareholders' interest
• Beware of the risks in bonds
• Watch the insider trades for the
"buy signal"

• The outflow of "hot money" and its
effects
• What can we expect from a buoyant
stock market in January
• Investing in currencies
• Sell in May? Black October? How true
are these sayings?
• All about REITs, bonds and ETFs
• The long and short on Contract For
Difference



For Self-Collection:
Venue:
ShareInvestor Office
151 Lorong Chuan #02-02 New Tech Park, Lobby B
Singapore 556741

Collection Hours:
Mondays - Fridays

(excluding eve of public holidays & public holidays)


9.30am - 12.00pm l 2.00pm - 5.30pm

TERMS AND CONDITIONS:
• For self-collection, the books can be collected 3 working days after the payment date.
• For registered mail purchase, the buyer must ensure their mailing address is correct. ShareInvestor will not
be liable for any book that is mailed to the wrong address or the loss of any books in the mail.
• By purchasing the book, the buyer agrees to the Terms & Conditions stated.