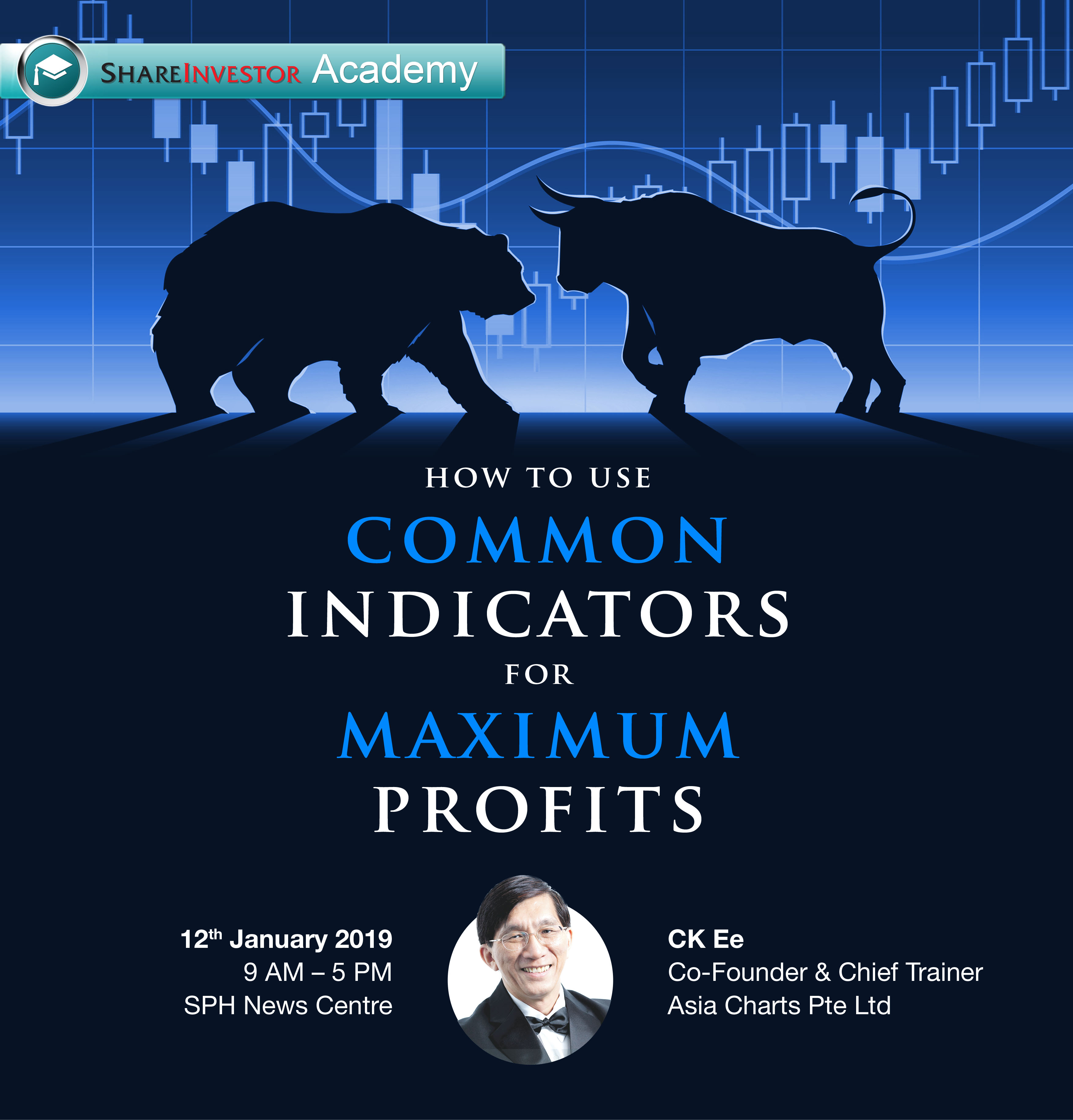 Many have wasted hours of frustration through stock market trading and not making much money, or even losses. Whether it's long-term holding or short-term trading, the market always seems to be against you, especially amidst the current soft and quiet market conditions.

Many are frustrated because they are using technical indicators alone without understanding market tendencies . What's worse is they don't have a proper trading system that works for them. Fortunately, there's a PROVEN and SIMPLE approach that even novice traders can use successfully.

The best part? You only need 10 minutes a day to apply what you'll learn and see better results in your trading.

Join us and learn HOW to use these common indicators to reap uncommon (MASSIVE) profits. Save yourself hours of frustration every day and costly losses trying to beat the market by signing up for this full-day seminar. We'll show you how you can use this proven and simple approach to better navigate the stock markets and make 2x or even more profits.


In this FULL-DAY workshop, you'll learn...
Trading the market (✓) VERSUS trading technical indicators (✘)
How to make money in the stock market REGARDLESS of upward or downward trends
How to identify the start of a rally or a sell down and how to CAPITALISE on it
How to ride on short-term, EXPLOSIVE swings to make INSANE returns
And most importantly… How to design a trading system to make CONSISTENT profits

We understand some of you might forget what you have learned at this workshop. Therefore, we compiled all the content in a 300-page instructional manual, which we'll give it to you for FREE.
Event Details

Date:
12th January 2019, Saturday
Time:
9.00AM – 5.00PM


(Registration starts from 8.30AM)

Venue:
SPH News Centre, Training Room T8.2 / T8.3
1000 Toa Payoh North, Singapore 318994
Fees:
S$48 for 1 Ticket
S$76 for 2 Tickets
About The Speaker
CK Ee
Co-Founder & Chief Trainer
Asia Charts
CK has been trading actively since 1993 in Singapore, Malaysia, Hong Kong and US. He focuses in trading growth / momentum stocks that have potential for big gains and using derivative instruments like CFD and warrants for better returns.


He has trained thousands of students in Singapore, Malaysia, Indonesia and Vietnam. CK emphasizes the key important of aligning oneself with the underlying behavioural structural of the market and be true to oneself in term of investing / trading style and developing basic but critical money management skill with the right trading mindset.

CK has also been featured in local & overseas media including Bloomberg News, Channel News Asia, The Straits Times, Business Times, Borneo Post, Sin Chew Daily, Oriental Daily News, Storm and many more. 
For more enquiries, please contact Tel: (65) 6517 8777 or Email: