YOU HAVE QUESTIONS.
WE HAVE THE ANSWERS AND RESULTS.

Is it possible to own multiple properties with no money down?

Is property investing huge capital and high risk?

What is the ideal type of property to purchase and when is the right time to buy?

We own over 34 properties, earning multiple streams of property income that rake in 5 figures consistently every month, and we will be sharing the ANSWERS to the questions above, and the RESULTS we achieved in our upcoming FREE seminar worth $589.

KEY TAKEAWAYS AT OUR UPCOMING FREE SEMINAR
How to choose the right property to invest in to maximise rental yield.


The tips & tricks to get your first property at the right price with little or no money down through leveraging and group buying.


Real case studies of rental yield and ROI so you know it's possible.


Actionable steps to get started immediately.


Rare opportunity to join our exclusive group of property investors and receive additional support to own your first property within 2 months and start earning passive income, if you have found value in the free seminar.

IS PROPERTY INVESTING ONLY FOR THE RICH?

That is common misconception. Our students come from vastly different backgrounds with varying levels of salary and upbringing. But all of them have 1 thing in common.

They applied our PROVEN STRATEGIES and now earn 4 figures of passive income per month after attending our course, all within a period of 6 months!
WHAT OUR STUDENT HAS TO SAY

"After 2 months of attending this course, I bought my first 90K undervalued property. Before I attended this course, I thought buying property was a big thing and there is a lot of calculation that is involved. Ivan, Shawn & Germaine made the complex things easy to understand so I managed to learn from it and got my first property!"

- Zhen Yi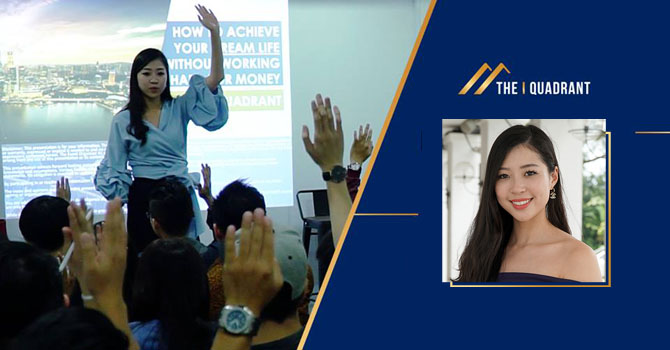 GERMAINE CHOW
PROPERTY INVESTING TRAINER

Germaine began her career in one of the world's most esteemed airlines, Singapore Airlines. She started a business with her husband in 2013 but lost it subsequently due to a bad partnership. She decided to join the financial services industry to sustain livelihood. While working late nights, she explored property investing and was amazed at the return on investment. Having little or no money, she found a way to acquire properties. She then started conducting seminar on property investing and built a community of investors.
EVENT DETAILS

Date:
9th January 2019, Wednesday
Time:
7:30PM – 10:00PM

Venue:
52 Craig Road, Singapore 089690
Ticket Price:
FREE (WORTH $589)
For more enquiries, please contact Tel: (65) 6517 8777 or Email: