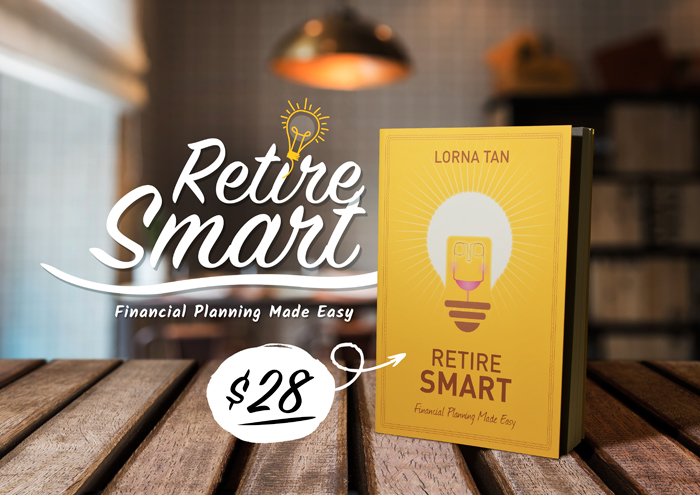 Following the success of her first two books, Talk Money and More Talk Money, financial journalist Lorna Tan is back with her third personal finance guide, this time focusing on retirement planning.

In this compilation of articles published from 2015 to 2017, The Sunday Times' Invest Editor cuts through complex financial concepts, schemes and jargon to help the layman make sense of what is important for planning his financial future and growing his nest egg.

The timely topics covered include tips on making the most of the various Central Provident Fund schemes and enhancements, plugging gaps in one's insurance coverage, and investing smartly without falling prey to scams. There are also sections devoted to legacy planning, credit and debt planning and consumer protection.

Suitable for both the fresh school graduate and the more seasoned investor, Retire Smart will empower them to take charge of their financial journey as they look ahead to retiring well.
Book Content:
10 ways to hack the CPF system
Deep in debt? There's help
$1m in CPF by age 65
When things get critical, how healthy
is your plan?
Your wealth and how to "trust" it
Lessons on bond investments
New grad? Never too early to think of retirement
Don't rush into investments linked to
virtual currencies
About Lorna Tan

Lorna Tan is The Sunday Times' Invest Editor and The Straits Times' senior correspondent. With more than 14 years at Singapore Press Holdings (SPH), she helms The Sunday Times' Invest section which covers personal finance and investment issues. An advocate of financial literacy and consumer protection, she is the author of two books, Talk Money and More Talk Money, both published by Straits Times Press. Over the years, she has won numerous awards including the Investor Education award in 2016, the Financial Journalist of the Year award in 2007, and the Financial Story of the Year award in 2005, awarded by the Securities Investors Association of Singapore (SIAS). In 2006, Lorna was runner-up in the Excellence in Public Journalism category, awarded by Hong Kong based Society of Publishers in Asia (SOPA). Two years earlier, she had won a SOPA award for excellence in business reporting.
PLEASE SELECT YOUR PURCHASE OPTION:
$28.00
$32.80
(Self-collect at ShareInvestor office)
(Delivered to home via registered mail)

For Self-Collection:
ShareInvestor Office
1000 Toa Payoh North, News Centre, Annexe Block, Level 7
Singapore 318994

Collection Hours:
Mondays - Fridays

(excluding eve of public holidays & public holidays)


9.30am - 12.00pm l 2.00pm - 5.30pm

TERMS AND CONDITIONS:
• For self-collection, the books can be collected 3 working days after the payment date.
• For registered mail purchase, the buyer must ensure their mailing address is correct. ShareInvestor will not
be liable for any book that is mailed to the wrong address or the loss of any books in the mail.
• By purchasing the book, the buyer agrees to the Terms & Conditions stated.

For more enquiries, please contact
Tel: (65) 6517 8777
Email: